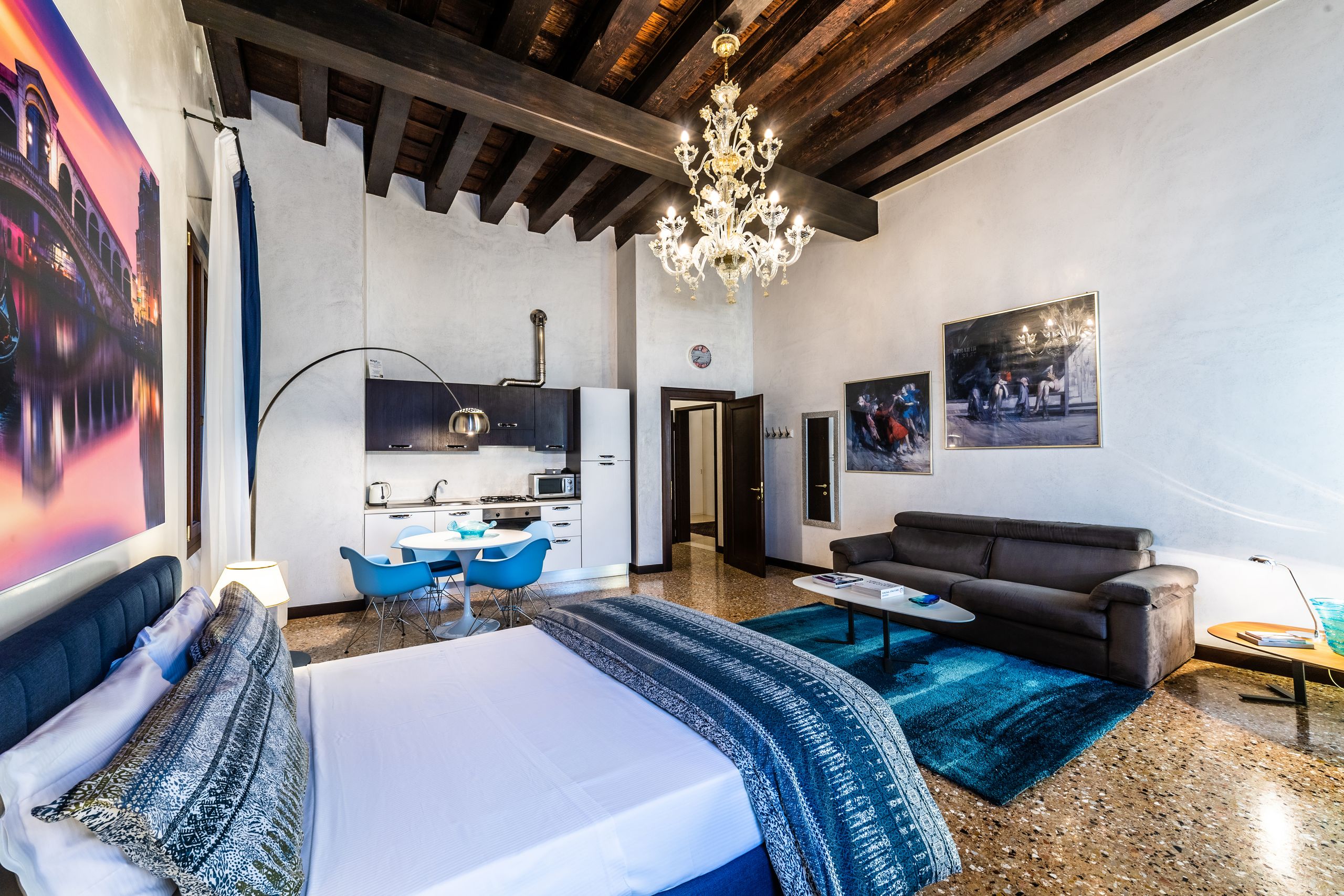 Ca' Sant'Angelo Apartments are located in Campo Sant'Angelo, behind  The Fenice Theatre and next to the former convent of St Stefano; the famous Via XXII Marzo, with its luxury shops is just around the corner and leads you straight into the grandest living room in the world: Piazza San Marco.
Only a short walk away, are some of the most famous tourist attractions in Venice: museums such as Palazzo Grassi, The Accademia, Peggy Guggenheim, the wonderful Palazzo Ducale, and many others.
Our apartments, despite having the privilege of being centrally located in the St Mark District, also reside in a quiet area of the city which is still populated by locals and have many convenience stores nearby, away from flocks of tourists.
Outside the Palazzo Ca' Sant Angelo, on a quiet canal called Rio de Sant Anzolo, our guests can always find a "sandalo", a typical Venitian boat ready to take them on an adventurous and fascinating trip through the maze of the city waterways.
Our apartments are perfectly located in a very central, yet extremely quiet area. Come out and take calle "del Cafeter" on the right, you will find yourself at the Teatro La Fenice, then take via XXII Marzo and the Piazza San Marco; continue straight and in a few minutes you will arrive at Campo San Luca and the Rialto Bridge with the fruit and fish market; to your left is the campo Santo Stefano, where the antique markets of San Murizio are held every year, Palazzo Grassi and l'Accademia. In the area you will find many restaurants and bars with tables outside, where you can enjoy excellent fish dishes or just a drink in the peace of the Serenissima. Return home and cuddle on the sofa to watch TV or just enjoy this gentle silence.
From Venice Marco Polo Airport:
Alilaguna boat service, orange line; get off at Sant'Angelo.
Alternatively there are private water taxis from the train station, Piazzale Roma and from Marco Polo Airport, get off at the Sant'Angelo stop. After receiving your call, a member of our staff will be waiting at the above-mentioned stop for the check-in.
From Treviso Airport:
Public bus service ATVO to Piazzale Roma. Then take line 1 towards San Marco Lido, call us on our mobile and we will pick you up from the Sant'Angelo stop
From Piazzale Roma Parking or Santa Lucia railway station
Vaporetto line 1 towards San Marco Lido; as soon as you get on call us on our mobile and we will wait for you at the Sant'Angelo stop.
New private service from Marco Polo Airport
A private driver will meet you in the arrivals hall with your name clearly displayed; he/she will then drive you to Piazzale Roma in a private car, from there you will board a private water taxi that will bring you to the Sant'Angelo stop: we will meet you there. The cost for up to 4 people is € 120.00. For a larger number of people contact us and we'll give you a quotation.