The art of good eating in Venice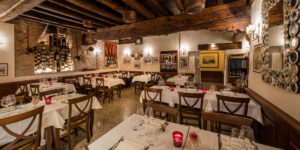 We would like to introduce you to the flavours of Venetian cuisine by suggesting a historic restaurant, Vini Da Pinto:  here you can really eating well.
It is located in one of the most characteristic areas of Venice: Campo delle Beccarie right in front of the famous Rialto fish market.
Every day, from Tuesday to Saturday, fish is sold just as it was hundreds of years ago in one of the historic sites of Venice.
This is where restaurateurs, locals and lately even tourists who stay in apartments, go to buy fish.
The restaurant has a very warm and welcoming atmosphere.
It has been refurbished with careful attention to detail.
During this process, a 16th-century fireplace, a column in Istrian stone and some 14th-century wooden beams were brought to light.
In the warmer months, a beautiful outdoor seating area is also available.
The owner, George, has extensive knowledge of food and how to pair it with the best wines.
The menu ranges from fish starters, spaghetti with cuttlefish ink, citrus scampi and Grand Marnier risotto, sea bass in salt and much more.
Every dish is unique.  Even pasta with tomato sauce will always be skillfully prepared with love and care.
Everything is fresh, with no pre-cooking or reheating and all pasta and desserts are homemade.
While staying in our apartments at Ca 'Sant'Angelo, you will have the opportunity to taste the dishes that George and his trusted team are able to offer you. If you want eating well in Venice you have to try it.
With one of our business cards, you will be gifted a "welcome drink" and an after-dinner liqueur at the end of the meal.
Soon, a Cicchetti Bar will be opened next to this restaurant and that will be used to welcome our guests.
We are looking forward to offering you a very pleasant stay in Venice.